George Electric Co. has been providing quality electrical service for commercial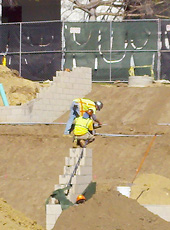 and public since 1989.
We are fully licensed, insured and bonded. We are proud of our reputation and protect it the only way we know how-- by providing quality workmanship, knowledgeable electricians, and staying committed to our customers.
Safety
Safety is one of our most important concerns. We train and certify all our employees, and offer incentives for safe performance. Our Electricians are knowledgeable of electrical codes and are proficient in safe working practices.
Professional Services
Our highly trained staff will provide you the design and implementation you need, with the quality, integrity, and professionalism you deserve. We implement seamless communications, from initial planning and design, to final implementation and testing. We value a positive attitude, reliability and good qualifications in our employees. Nothing is more important than knowing our employees treat every client with courtesy and respect.
We do it right the first time.
To soar above our competition, we work hard to be the most efficient and proficient company we can. We provide employees the tools they need to continually upgrade their education, skills and performance. To that end, we believe our technicians can complete the same job in half the time as the competition. (Double the time means double the cost.) By the end of each project, the job is done right, on time and within budget